What Is Jagua?
Jagua is blueish dye prepared from the Genipa Americana fruit. It has been used as a body art expression by the Shipibo Tribe; the oldest ethnic group in the Peruvian Amazon jungle for over 2,500 years. It's also commonly known as Huito. From this unripe fruit is obtained a juice containing the Genipin substance which stains the skin with an amazing dark color.
Shop Now
Product Care
JAGUA JUICE: It is a natural product that uses a food preservative accepted by the WHO (World Health Organization). This natural juice needs to remain under refrigeration between 3°C to 7°C.
If the Jagua Juice is refrigerated properly it may last up to 6 months and 20 days when the product is not refrigerated.

JAGUA POWDER: Must be kept away from moisture or very dry places. Jagua Powder will last 2 years without refrigeration under good storage conditions and it will last up to 4 years refrigerated.

JAGUA GEL: If you have not finished using the Jagua Gel, you should refrigerate it immediately. After 4 months the Jagua Gel will lose its power to stain the skin.

RECOMMENDATION: Just prepare Jagua Gel as you need it.
Attention!
The product should be kept out of reach of children.
The product should not be swallowed.
The product should not be used on the face.
People under 16 years of age will need supervision.
In case of any allergic reaction, consult your doctor.
JAGUA FACTORY is not responsible for any improper use of the product.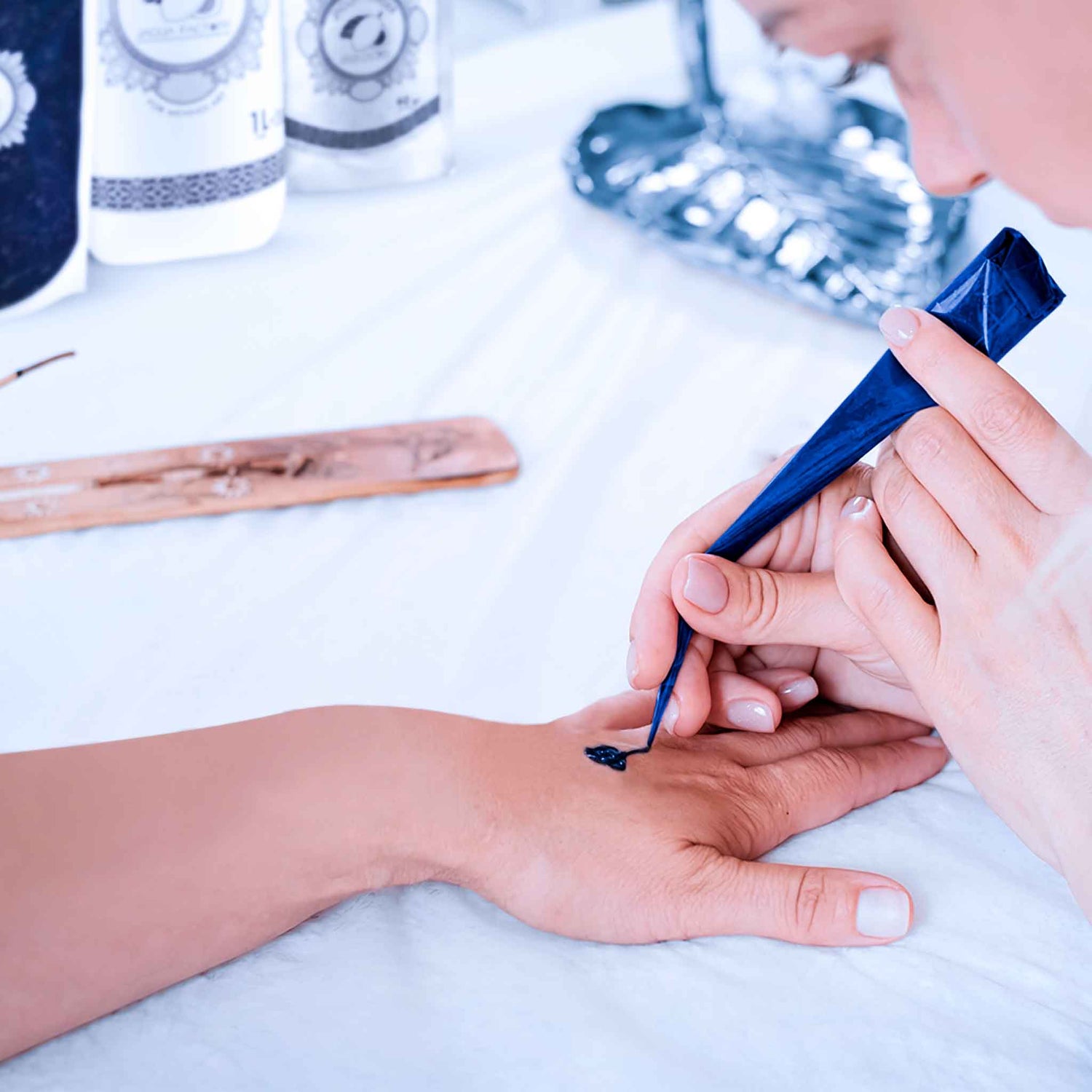 Health & Safety
Our products are completely safe and don't contain any chemicals. They are made from Amazonian fruit, JAGUA or HUITO, and have been used by the Shipiba tribe of the Amazon Rainforest of Peru for hundreds of years to perform rituals, ceremonies, and dances. Our products have been tested and analyzed by the prestigious Brazilian laboratory KOSMOCIENSE; and have been tested on different parameters of safety and quality with more than 50 volunteers for 3 months in order to check their safety, purity, and quality. Due to the great results, our product has obtained the qualification of a: HYPOALLERGENIC PRODUCT AND DERMATOLOGICALLY TESTED. However, it is important to know that all-natural products require a prior test in order to prove that you are not allergic to natural products. Before using the product, it is recommended to do a small test on the wrist; If you find that you are not allergic to natural products you can continue with the use of the product.
Allergic Reactions to Jagua
Body allergies are rare when using naturally derived dyes. Even though Jagua is a natural product, it is possible that some people have allergies not only to Jagua but to any of the ingredients of the final product, so it is recommended that people with sensitive skin do a previous test of the product before applying it fully on the skin. It is important to advise that artists must use ingredients of proven quality so that the final product maintains its high quality. People who have experienced allergic reactions to Jagua usually report rashes that are more like red bumps. These should not be confused with the allergic reactions produced by the use of HENNA NEGRA which contains PPD. Allergic reactions to JAGUA will not leave a lasting scar. In general, the rashes caused by JAGUA can be treated with some anti-itch cream, however it will always be much better to see your personal doctor.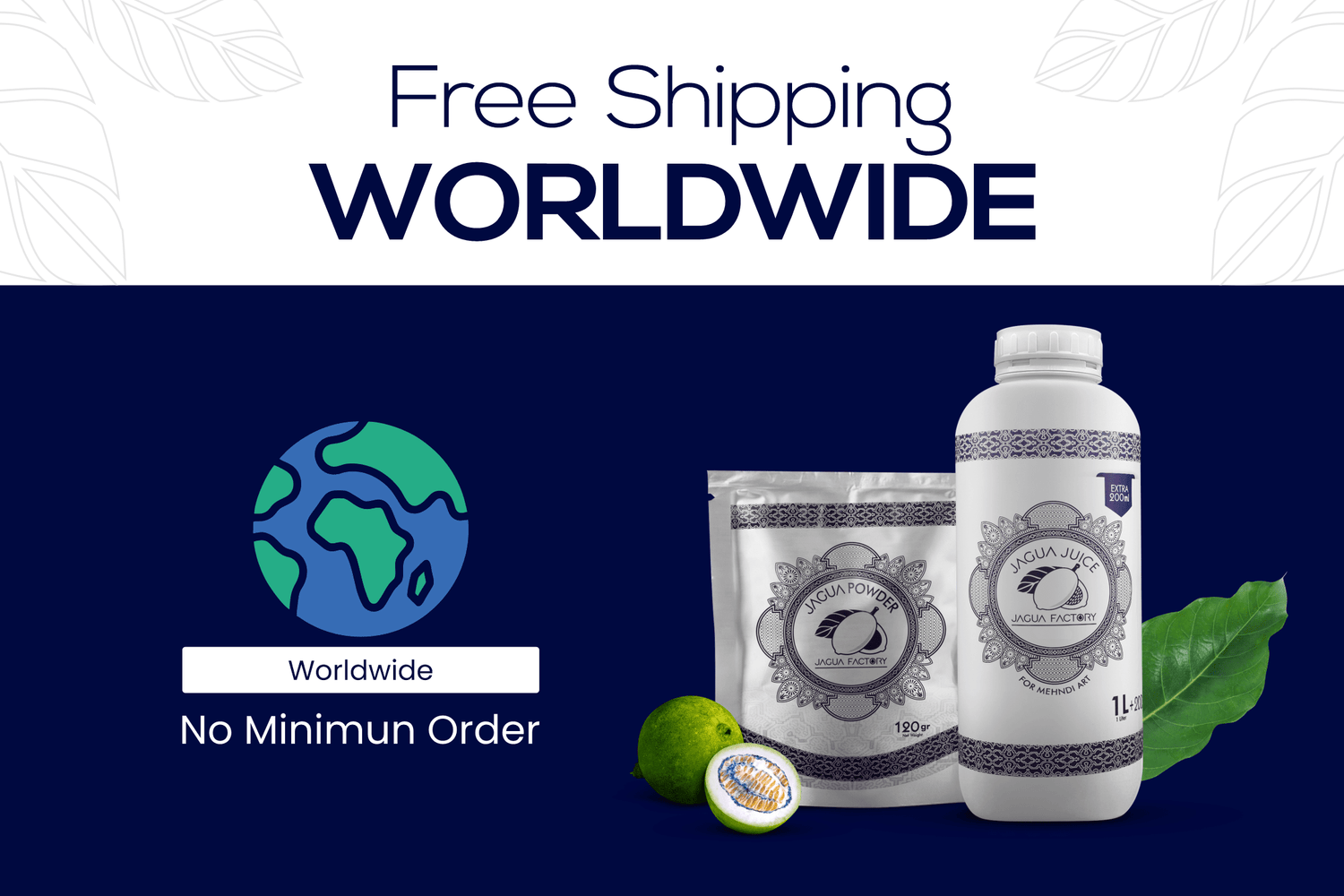 About Shipments
FREE SHIPPING WORLDWIDE*: All orders in the US will be fullfilled from Las Vegas Nevada.* All orders outside the US (rest of the world), included (US Virgin Islands, Guam, American Samoa, and Northern Mariana Islands) will be fullfilled from Perú.
VERY IMPORTANT: JAGUA FACTORY uses very safe packaging. You will receive a copy of your invoice and other security documents inside the package. The product is declared as "Art Supply". Generally the shipments comply with the promised times and reach their destination easily and punctually, however it is the responsibility of the customer to verify all the customs regulations in their country to avoid delays or unexpected returns.
JAGUA FACTORY is not responsible if customers have any delay or return of the product caused by customs in their country.
Shop Now
How to Apply Jagua Gel on the Skin?
Step 1: Apply the Jagua Gel. Decide the design & where you want your jagua tattoo to go and accordingly apply the Jagua Gel to the skin.

Step 2: Allow at least 2 hours for the gel to dry completely. It's best to use this time to relax. Try not to stretch or push the skin together.

Step 3: Clean your skin thoroughly with soap and water. Dry your skin with a towel thoroughly after washing.

Step 4: Don't Panic! It will look Pale and Blurry at this Stage. Even after 6 hours, the design will be faint at first so don't panic; this is normal. It's important not to scrub or tug at your skin during this time.

Step 5: 12 - 48 Hours later, will see a dark-bluish Jagua stain on the skin which lasts for 1 to 2 weeks. Drink lots of water and apply lotion to the design daily. Apply sunscreen to the design if it will be exposed to prolonged periods of sunlight.