Regular price
$125.00 USD
Sale price
$99.00 USD
Unit price
per
Sale
Sold out
Jagua Powder for Body Art, temporary powder ink for tattoos, for mehndi art. The only Powder manufactured under the modern freeze dehydration process (Freeze-dried). Jagua juice dehydrated Powder concentrated. Our Jagua Powder is Pure and 100% Natural and Vegan, No Tested In Animal, Our Jagua Powder is made from the Genipa Americana Fruit extracted juice of the Peruvian amazonian, with the freshest under strict cosmetic quality controls and tested in the best laboratories in the world.
The stain of Jagua Powder is so strong and you have to be careful not to touch it directly because you will have a beautiful undesired stain on your skin.

Our Jagua Powder does not need refrigeration and lasts more than 4 years, which makes it extremely easy to travel with it anywhere.

Preparation

Ingredients:
2.0 gr Jagua Powder
24 ml pure water
0.5 gr of Xanthan Gum
1.5 ml of essential oil

Instructions:
For every 2 gr of Jagua Powder, mix 0.5 gr of Xanthan gum & 5 gr of sugar. Add 24 ml of hot water and mix until the mixture dissolves completely in the water. Jagua powder is 100% water soluble.

Stir until you find the desired consistency; take some generous time to stir it until the thickener does its job. Finally, add the 1.5 ml oil and stir again until you have a uniform gel able to go out the needle. Now you can place the gel in an applicator or in a cone and let your imagination fly by making beautiful designs.

Due to the nature of the product, designs created with powder always dry quickly and sometimes they usually create hard layers, this is normal!
Free Shipping Worldwide

Worldwide: No Minimum Order
Customs Policy

Shipments internationally may encounter custom duty fees. The fees are based on the destination and the regulations of the country being shipped to. Every country has different importation procedures which are determined by its customs laws. Typically, the type of goods shipped and the value of that good are factors determining custom duties and taxes.

THE CUSTOMER will be responsible for paying the customs duty. For the United States, there are no customs charges. Since January 2022 in all European countries, customers pay taxes for $1 purchases. You as a customer have the responsibility to be aware of this possibles charges and verify if you will pay taxes or not.

BE AWARE OF SURCHARGES
Besides duties and taxes, senders or receivers can sometimes face extra clearance administration (ancillary) charges from the carrier or customs broker, these can be for advance payment of duties or for special clearance processing and approvals. take into account the DHL besides the carrier services and as customs agent also give customs clearance services.

JAGUA FACTORY company is excent of all responsibility for these customs charges and for any other charges that also the carrier can charge for their customs clearance services. If you don´t require DHL Customs clearance service, you can also inform them that you have your own external customs agent to release your order.

Even though Jagua Factory pays the shipping cost, this does not include other charges that the carrier can apply in the destination country. To avoid any surprises, ask your carrier or Customs agent what ancillary charges you can expect for your goods to clear customs in the destination country.
Care Instructions

Clean the part of the skin to be painted with alcohol.

Do a self-test before using the product.
Storage Instructions

Jagua Powder will last more than 4 year without refrigeration & can even be refrigerated to prolong its life. 

Jagua Powder must remain in proper conditions; away from moisture or very dry places.
Share
View full details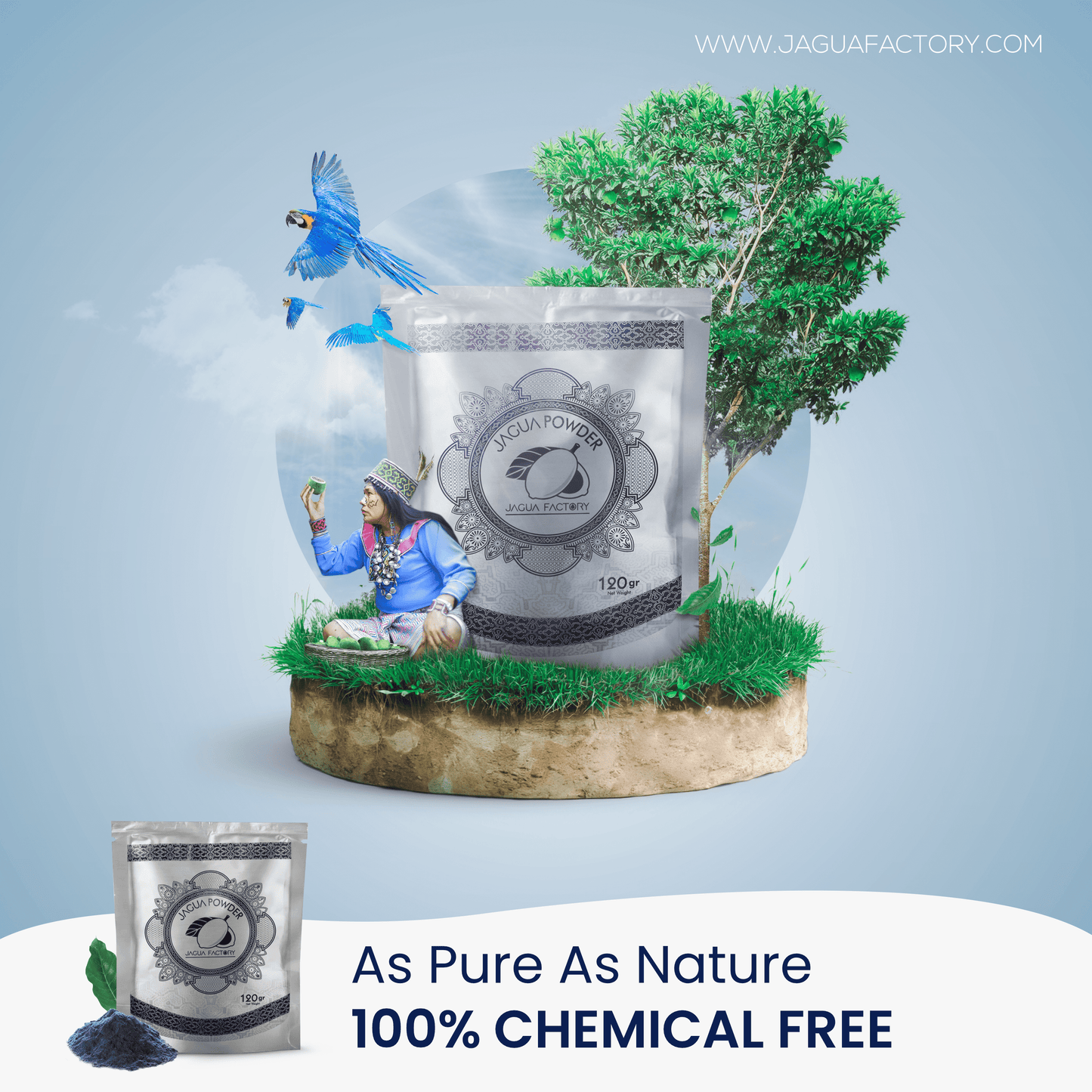 Prepare Jagua Gel with Jagua Powder